Last Sunday, I got a noticed from Marky telling me that my site is one of the nominee for Idol Blog'08. Wow! I was so excited and looking forward to tell all my co-bloggers about this great news.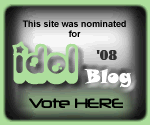 Please cast your votes for my blog, I am looking forward to get your support on this prestigious event. Just simply visit
marky website
for you to vote. You can vote daily. I will count your votes for my site and Thank you so much for your support.