This afternoon after church we went home right away to eat our lunch. My husband was trying to help me out by wrapping my dessert, but I told him let me do my thing.. hehehehe... While he was busy making his spaghetti, I got a chance to finish one opportunity from SP. After having our lunch, I made apple rolls using lumpia wrappers. Maybe some of you out there want to try my apple rolls, feel free to copy my recipe.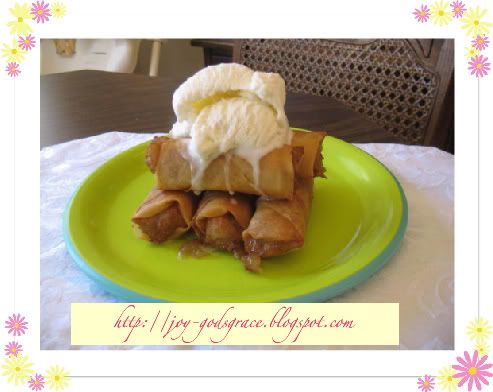 Ingredients:
4 Medium Apple
1/4 cup water
1 tbsp Cinamon powder
2tbsp. Cornstarch (Dissolved) with a small amount of water
2 cups Brown/white sugar or Splenda optional
Spring rolls Wrapper or Lumpia wrapper
Just simply peel the apples and slice it very thin and put it in a pan together with the other ingredients, bring it to a boil until the apples are tender or soft. If you want them crunchy you can do it that way also. Then mix it with cornstarch and stir it for about 2 minutes. Then let it cool down and wrap it with the lumpia wrapper and fry it until golden brown. Enjoy your dessert and you can put ice cream on top (optional).