As what I've stated in my blog yesterday, I made a noodle dish (Bihon) for my husband, this is what I made.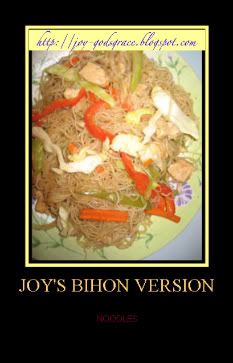 Ingredients:

2 packages of Special Bihon (Noodles)
2 large boneless chicken breast
1 pound of pork (optional)
1 small white onions (whole), black pepper and salt to taste
5 tbsp Soy sauce, about 4 tbsp of Oyster sauce & 2 pcs. chicken cubes
1 pc. Red bell pepper, 1 pc. green bell pepper (small size)
2 stalks Celery, 2 pcs. carrots ( sliced thin) and 2 cups of cabbage (sliced very tiny)

Procedure:


First put olive oil in a pan, then put the onions, add the meat until brown, add the soy sauce, oyster sauce, chicken cubes and ground black pepper and add 4 cups of water, seamer it for about 10 minutes or until meat is tender. Add the noodles and keep on mixing and try also to see if the noodles is not under cook or over cook, then lastly, add the carrots, celery, cabbage, green & red pepper and cook until semi soft.

That's it.... then served... Enjoy eating.